Photo courtesy of Hamburg Music Festival
Hamburg Music Festival started in 2009 when a group of Hamburg natives were having a conversation in a bar. "I was trying to get people back into the village after two years of roundabout construction," says co-founder Luke Mumbach. "[I was] talking with my friend and local musician Alison Pipitone about all the great musicians from Hamburg and I said 'We should do a music festival'. That's how it began."
The Festival takes over the entire Village of Hamburg every September, with multiple venues for people to go to as well as the
main stage at the park. The main goal is to showcase the whole Village and all it has to offer, and it draws in a few thousand people annually. In addition to being a tourism driver, the event is also a 501c3 that donates all of its proceeds to supporting individuals, schools, and organizations doing real and actionable good in the Hamburg community.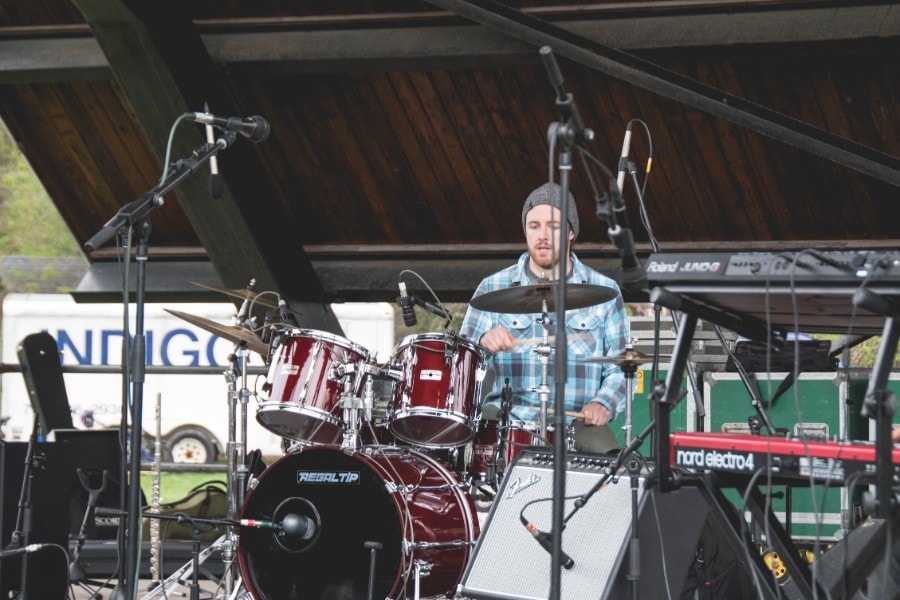 When Hamburg Music Festival wanted to promote their 2021 event to a wider audience, they turned to Step Out Buffalo to help them achieve their goals. They purchased a Premium Event Package from our advertising options, which helped put their event in front of more than 100,000 people.
Q&A with Hamburg Music Festival co-founder, Luke Mumbach
What is the most important marketing tip you would give to someone looking to promote their event?
"Market using all the different channels and do your budget accordingly so you are spending the most with the most effective channels [while] getting the most of your budget."
What was your goal in working with Step Out Buffalo?
"To really raise awareness throughout the WNY area. People in Hamburg and close by know about us, and while we wanted to remind that group [about the event] we really wanted to reach people much further away so we can continue to grow the brand and event."
What did you like most in working with Step Out Buffalo?
"Richard was great to work with, very responsive, and had great ideas. Communication was great and without delays. They
also offer a complete package with varying levels which gives you many options depending on the campaign goals."
Campaign Insights
What They Got:
Premium Event Package| Includes a Step Out Buffalo Spotlight article, Live Social Story & Instagram Reel, Giveaway Hosting, placement in our Sponsored Monthly Event Roundup Post, Spotlight Email Upgrade, High Brand Email, Email Event Listing, placements in Step Out Buffalo's weekly Best Things To Do Email, a Sponsored Event Listing shared on Step Out Buffalo's Best Things To Do guides and homepage, Social Share of their event listing on Facebook and Twitter, and 80,000 Banner Ads. This advertising package is ideal for selling tickets or boosting attendance to any exhibit, festival, event, fundraiser, or concert as it puts your event front and center to SOB readers who are actively looking for fun things to do in the Western New York area

Reach:
Facebook: 37,138 People Reached
Email Opens: 38,381 Opens
Instagram: 16,621 People Reached + 8,857 Reel Views
Clicks:
Clicks: 4,257 Clicks
Cost Per Click: 60 cents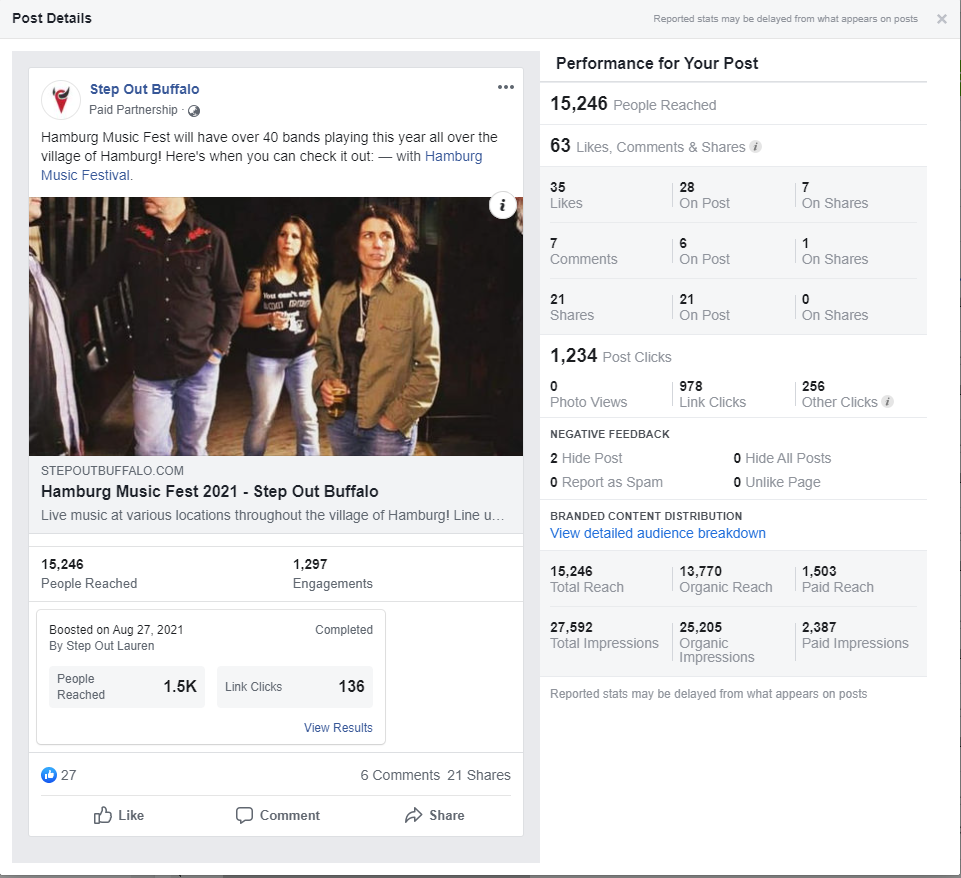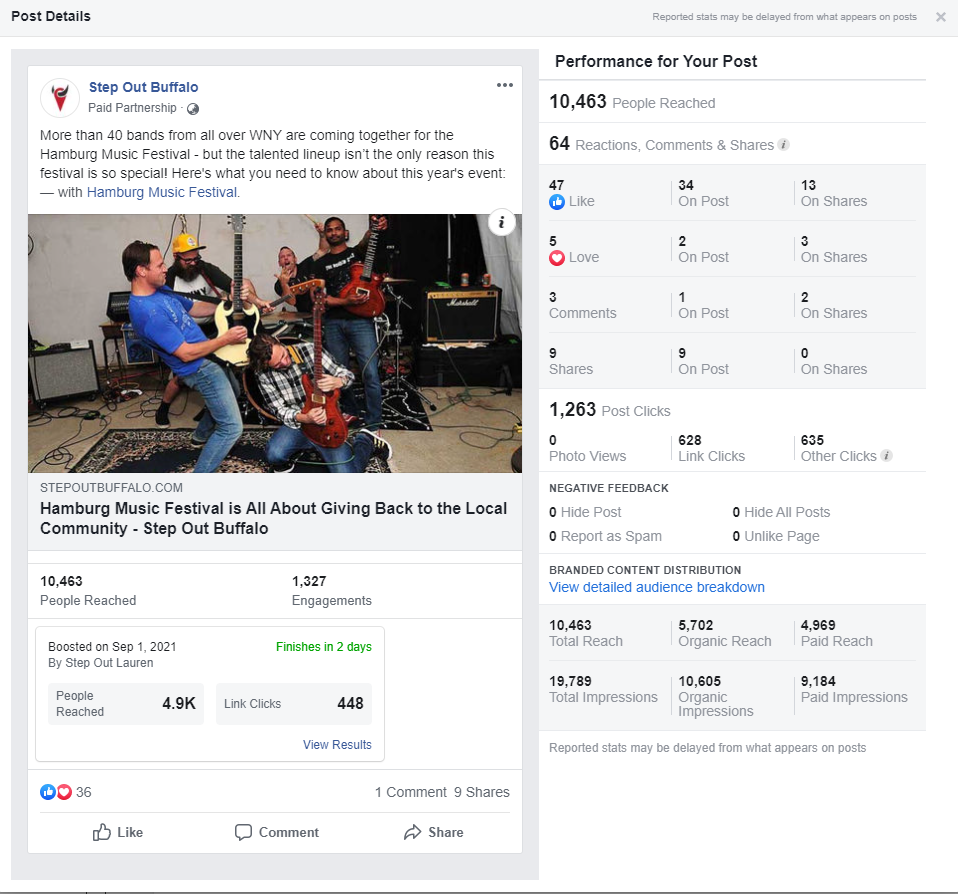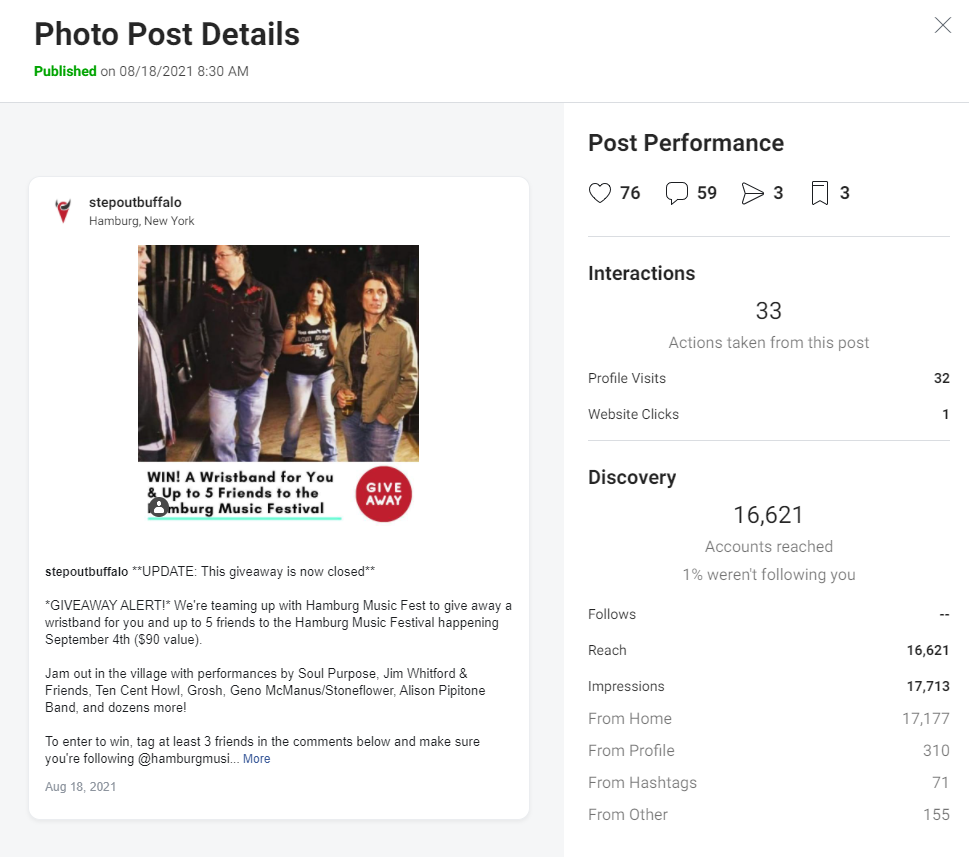 Hamburg Music Festival
Website: hamburgmusicfestival.com
Instagram: @hamburgmusicfestival2021
Facebook: facebook.com/HamburgMusicFest
---
Contact Us
Step Out Buffalo offers advertising options for local businesses throughout WNY. If you're looking for a creative and effective way to reach your target audience, let's chat. Contact us for more information on our advertising packages.