Photo courtesy of New Image Anti-Aging
New Image Anti-Aging is a medical spa based in Western New York that offers a variety of treatments including Hydrafacials, Laser Lipo, PRP, Botox & Filler, Vitamin Injections, Teeth Whitening, Scar Therapy, Microneedling, and Laser Hair Removal as well as treatments for stretch marks, wrinkles, and much more.
The business was originally started by Sherri Arbabzadeh in 2008 and was one of the first med-spas in the Buffalo Area. Med-spas are combination of an aesthetic medical center and a day spa that provides nonsurgical aesthetic medical services under the supervision of a licensed physician.
Sherri's focus when she opened New Image Anti-Aging was to offer the newest and best technologies in the aesthetics market that would help her client look their best. When she lost her battle to breast cancer in 2019 her daughter Mondana decided to continue her work and success in her memory.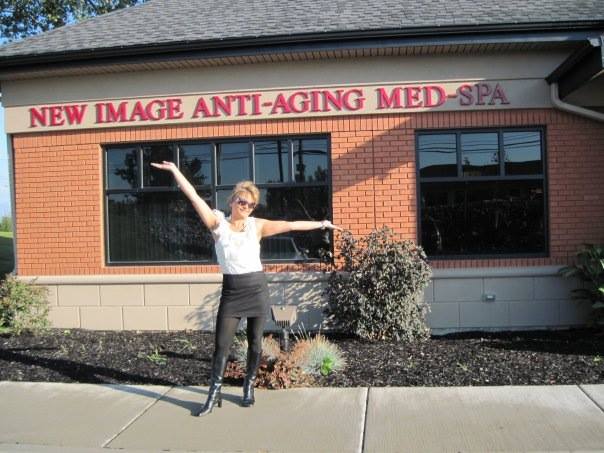 When New Image Anti-Aging wanted to put their business in front of a new audience, they turned to Step Out Buffalo to help them achieve their goals. They purchased a Shop Local Package from our advertising options, which helped them spread the word about their business and receive countless direct message inquiries on social media that led to new clients.
Q&A with New Image Anti-Aging Owner, Mondana Haghani
---
What is the most important marketing tip you would give to someone just starting a business?
"Put yourself out there, try everything and when you find what works, go with that. Hard work really does pay off."
What was your goal in working with Step Out Buffalo?
"Increase our brand awareness."
What did you like most in working with Step Out Buffalo?
"Great social media engagement. I like knowing I'm targeting locals!"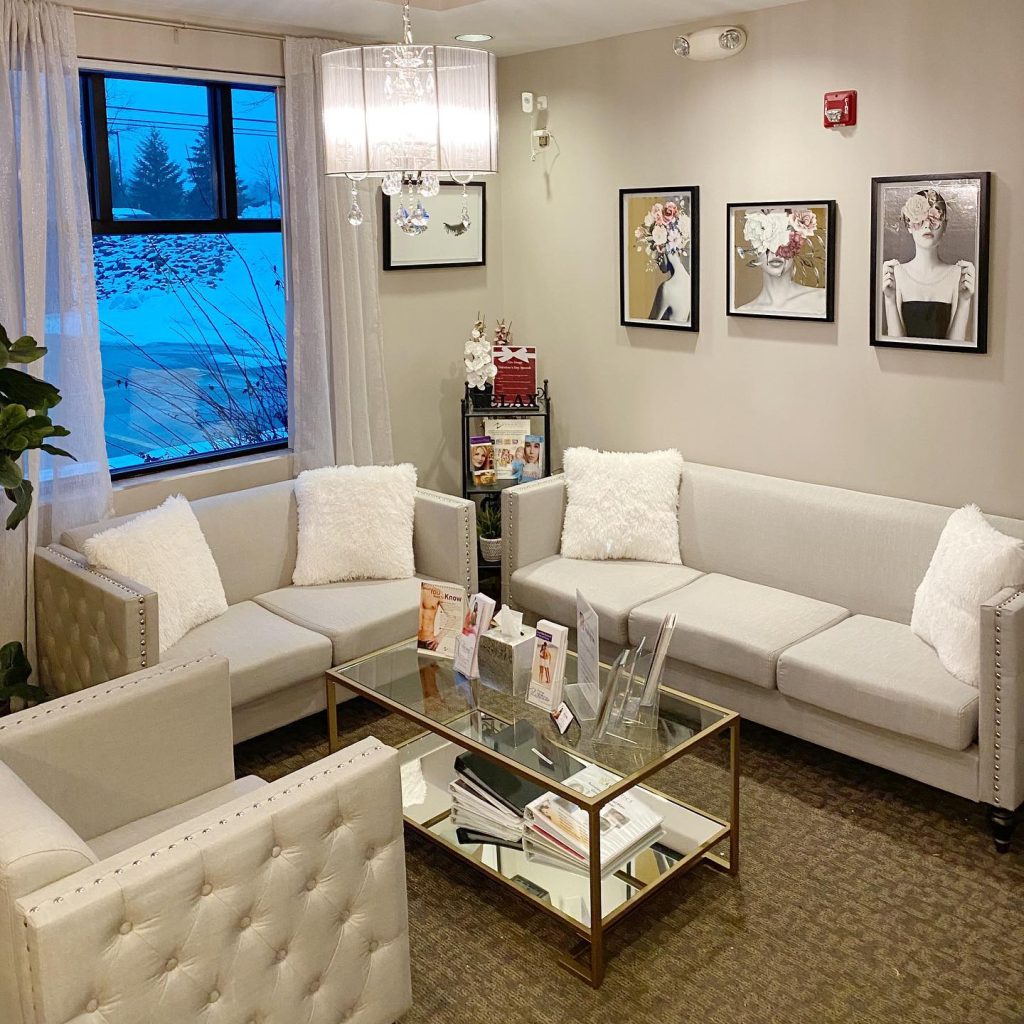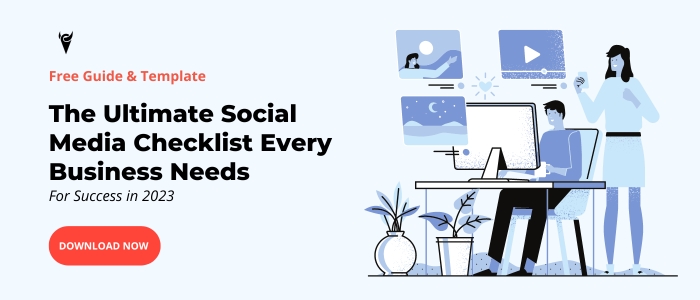 Campaign Insights
---
What They Got:
Step Out Buffalo Shop Local Package| Step Out Buffalo Shop Local Packages are discounted advertising bundles comprising of our most popular promotional items at a discounted price.
Here's How It Works:
Our Shop Local packages include constant visibility on the Step Out Buffalo website through a featured business listing that will appear in your relevant category. For example if you have a restaurant your listing will appear in our Food & Drink section of the website.
Then throughout the campaign we will publish bigger, more creative promotions throughout our different marketing channels such as the website, SOB email newsletter, our Facebook page and on our Instagram and Tik Tok.
Items are delivered over a six month period or the schedule can be customized to accommodate seasonal businesses or different campaign objectives. The goal is to put your brand in front of our readers in creative, engaging through multiple touch points across the campaign.
New Image Anti-Aging's Campaign Included:
Clicks & Reach:
$2.96 CPC
68,803 Banner Ad Impressions
49,850 Email Opens
28,590 Reached On Facebook
40,695 Reached On Instagram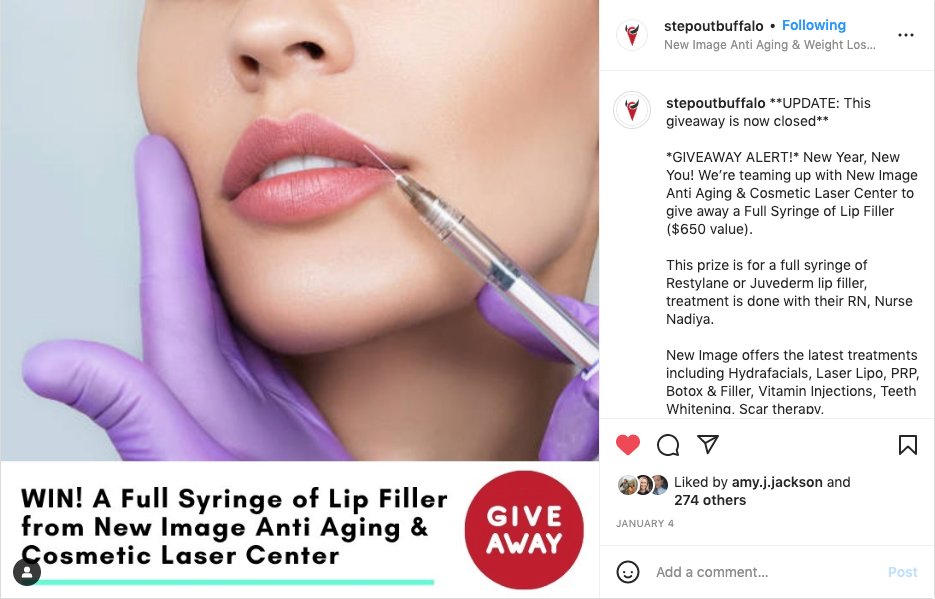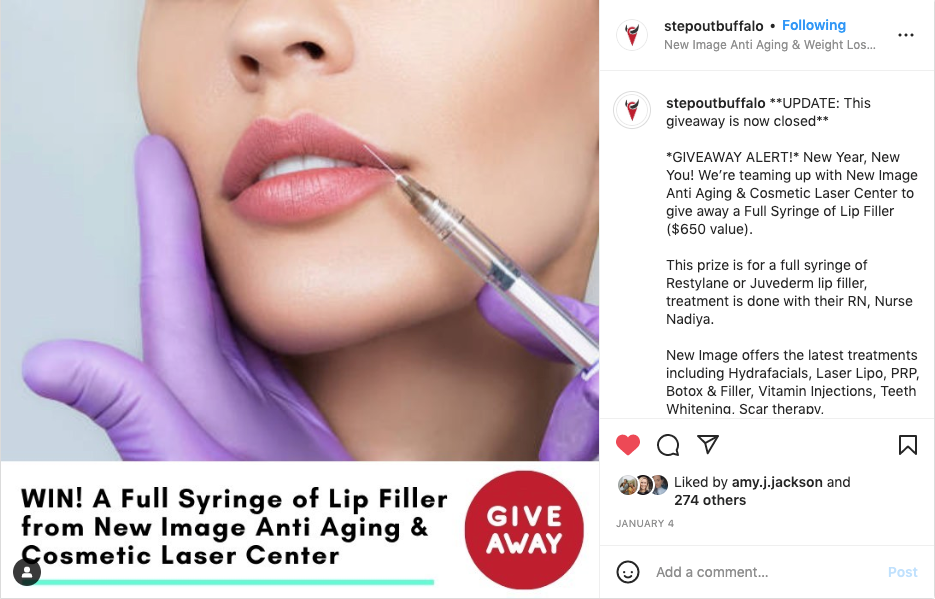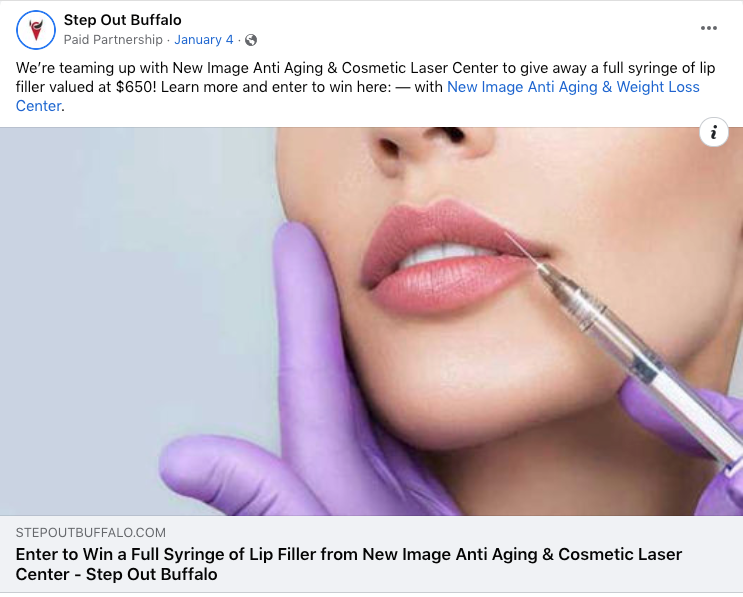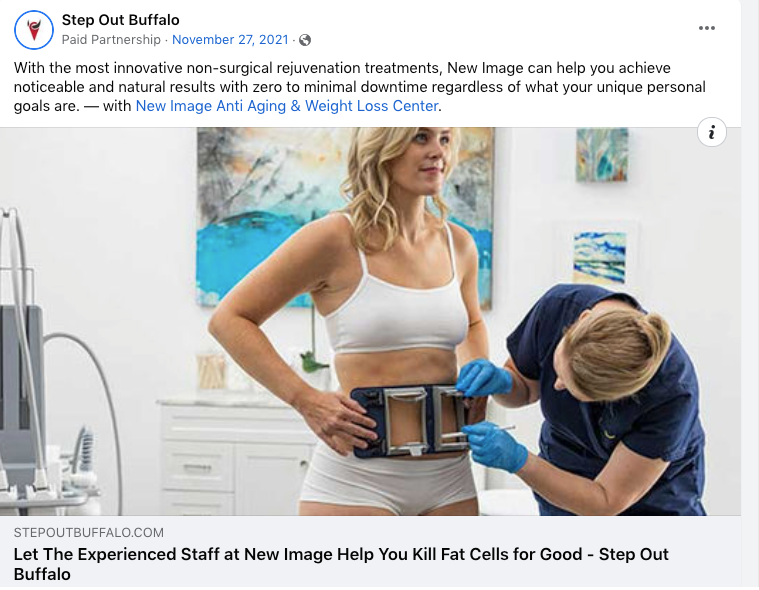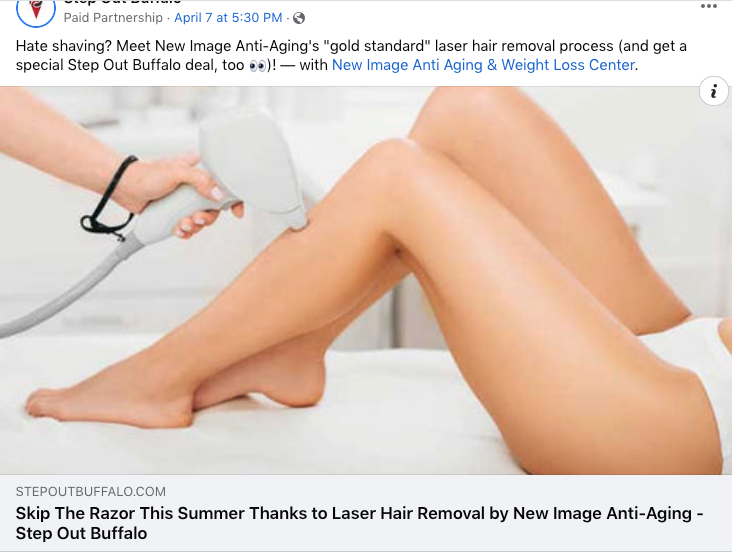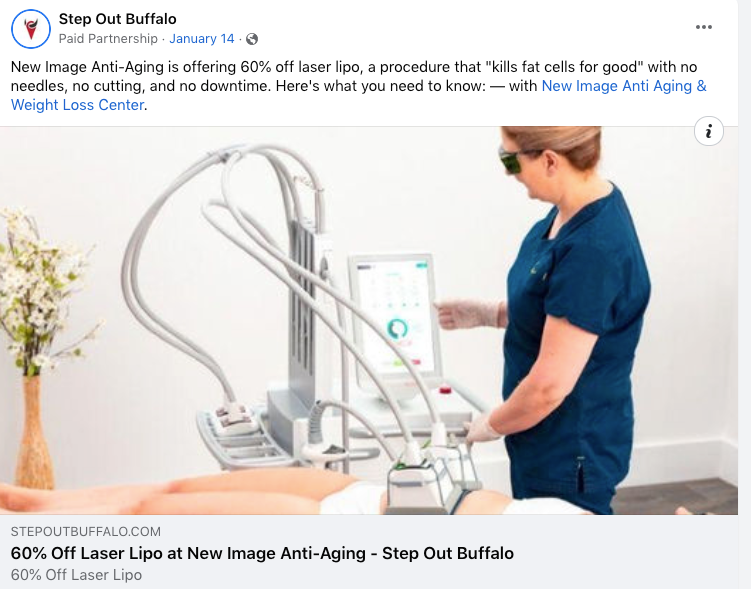 New Image Anti-Aging's Step Out Buffalo Instagram Reel
New Image Anti-Aging
---
Website: www.newimageantiaging.com
Instagram: @newimageantiaging
Facebook: facebook.com/newimageantiaging
Contact Us
---
Step Out Buffalo offers advertising options for local businesses throughout WNY. If you're looking for a creative and effective way to reach your target audience, let's chat. Contact us for more information on our advertising packages.